Information
A small and complex function for constructing curves with given parameters.
As input data for scripts, you can set any parameters. Like width/height etc...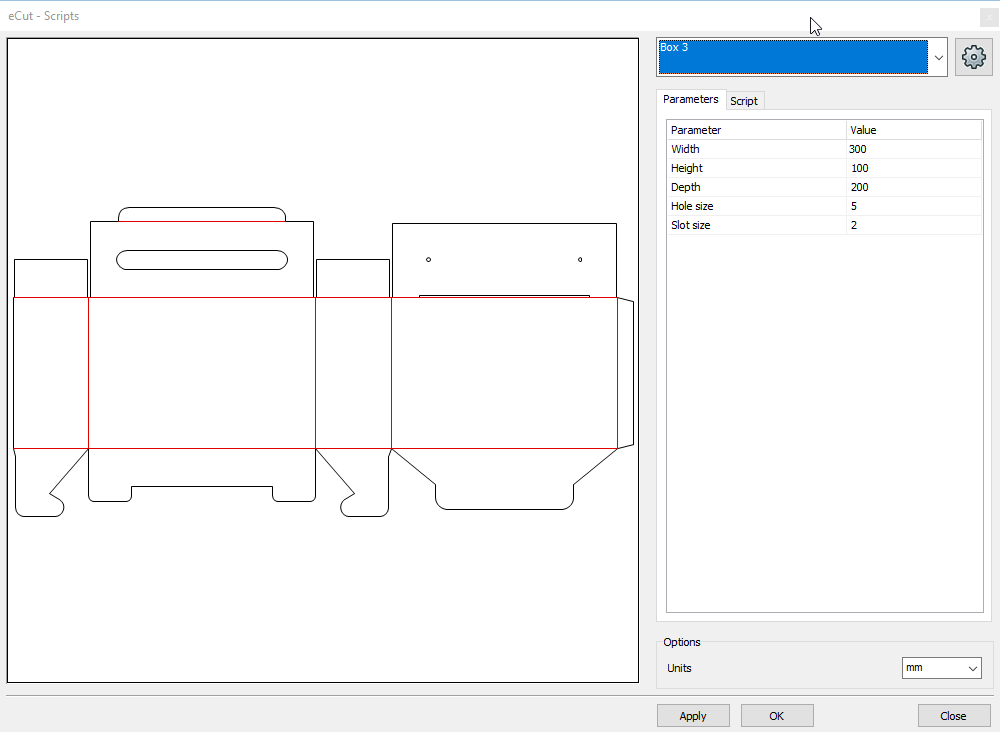 Script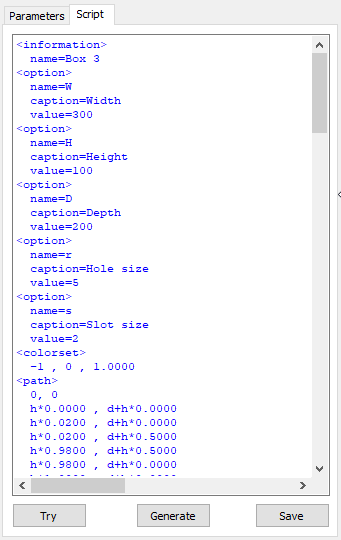 The script is written in text form and has the following structure:


// The beginning of the script always starts with this command. It describes the name of the script that will be displayed in the list of available scripts.
<!—-><<!—->information>
   name=SCRIPT NAME
// Next is the description of the input parameters. Each parameter has a NAME parameter - this parameter can be used when describing curves. The CAPTION parameter determines how this parameter will be displayed on the first tab.
<!—-><<!—->option>
   name=VARIABLE NAME
   caption=VARIABLE CAPTION
   value=DEFAULT
// COLORSET command defines the color of the generated curve
<!—-><<!—->colorset>
   FILL COLOR, STROK COLOR, STROK WIDTH
// The most important PATH command - it creates a curve. Each line is the coordinates of a curve point. Each coordinate can be described either by a number or by an expression using brackets, signs (+ - * /), and input parameters. If two coordinates are specified, then the segment will be a line, if 6 coordinates are specified, then it will be a Bezier curve (the first two coordinates will be for the start control point, the next two for the end control point, and the last two for the end point). If you put a comma and the word RELATIVE after the coordinates, then the point will be considered relative to the previous one, otherwise relative to the origin.
<!—-><<!—->path>
   X ,Y , (relative coordinates, line segment)
   X1 ,Y1 ,X2 ,Y2 ,X3 ,Y3 (relative coordinates, curve segment)
// This command creates a circle at the given coordinates with the given radius, you can also use brackets and action to set parameters.
<!—-><<!—->circle>
   X ,Y ,R
// The end of the script always ends with the END command.
<!—-><<!—->end>

Outcome
Conclusion - if you have questions, contact me, I will tell you everything in detail.