Last updates
To update eCut - download latest version and install.
eCut 6.6.11.14
2017-11-05
Many little fixes and improvements (LEDs, Cost, Plot)
eCut 6.6.11.13
2016-08-11
26.04.17
Added CorelDRAW 2017 support And some fixes to same version.
10.11.16
Bridge creator can swap strokes now.
15.10.2016
And some more features: barcode generator can make thicker lines, 64bit support improved, cut function updated.
New function was added: finger-joint shape

Also some fixes and addons in other functions:
Cut/plot - fixed sorting
Eyelets - all holes will be groped
Nesting - sorting is available in container now, efficiency output, now you can set time to process your shapes
Area - DM2 and CM2 was added
Route optimizer - new shapes will save some parents parameters
eCut 6.5.10.12
2016-01-11
17.02.2016
Some more fixes and enchantments in this functions:
Cost calculator, Rectangle nesting, True shape nesting, Multiply, Create carrier.
Many little fixes and improvement that was made for last months.
Weeding lines can create separate lines to separate text lines.
LEDs show how many diodes was created in status bar.
and many other fixes that was updated earlier...
For example - contour cutting feature: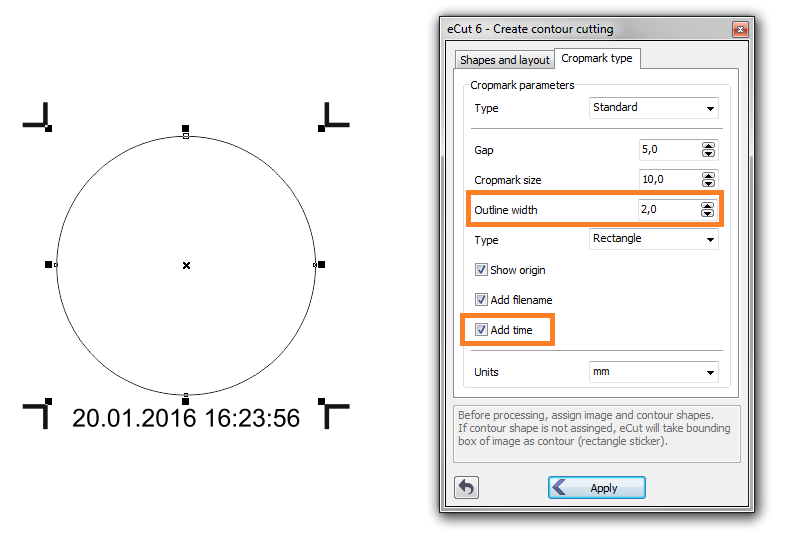 eCut 6.4.9.11
2015-07-17
06.11.2015
UI scale fixed
New function - finger joint box creator.
You can use laser or CNC milling machine to create this boxes, function can compensate CNC tool diameter.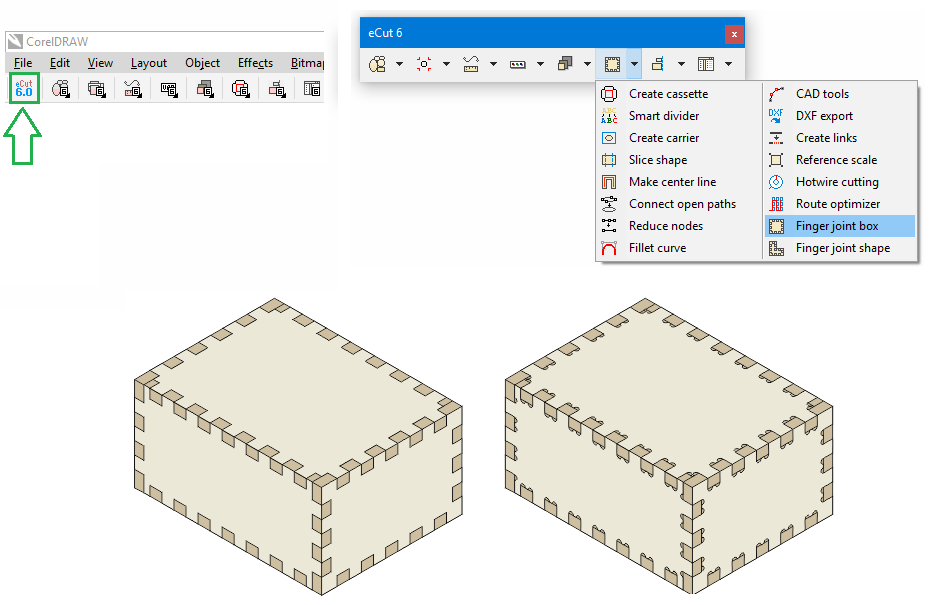 Also fixed bugs that could cause 64bit CorelDRAW error when processing very complex shapes.
Also search function was improved.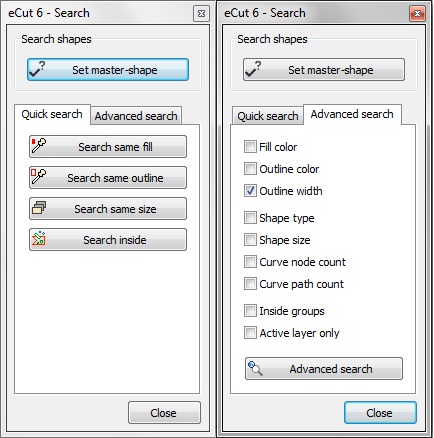 eCut 6.3.8.10
2015-07-07
Some little fixes.
Nesting can create blocks in rows after nesting if they are not fitting to area.
Weeding lines can make lines smaller.
New cropmarks - circles with variable diameter.