Last updates
To update eCut - download latest version and install.
eCut 7.4.3.31
2023-09-06
CorelDRAW 2023 Perpetual (one-time-purchase) is supported now
Calculation of the center of mass. Script data from Excel. Combining pages. Print marks and eyelets can handle selected objects individually. Small improvements in the LEDs. Zigzag entry in G-codes. Fixes in Variables. Edge roll with a flange can generate a serpentine on the sides for the composite materials. Almost everywhere there are centimeters. Sorting materials in the price function.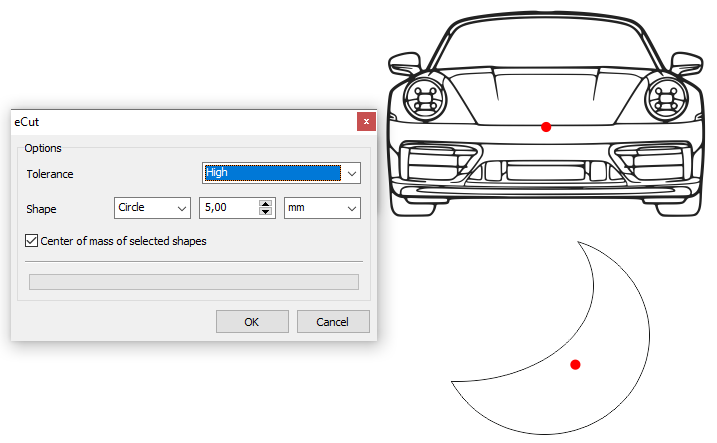 eCut 7.4.2.30
2023-07-05
Sendwich group can detect overlappings of shapes boundbox.
New feature that can create many rectangles from base. Base can be created in Excel.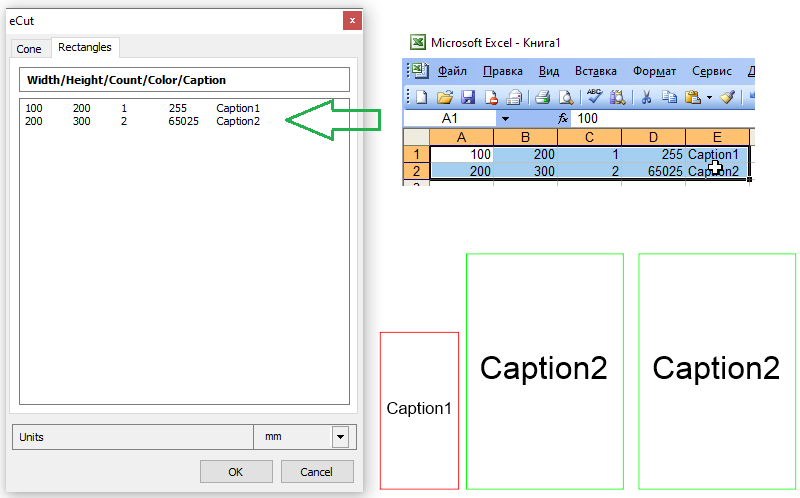 eCut 7.4.2.29
2023-05-05
Little fixes
eCut 7.4.2.28
2023-03-02
Little fixes
eCut 7.4.2.27
2022-10-18
New function to change finger siae in finger-joint boxes

Finger joint change size

eCut 7.3.1.26
2022-10-08
Minor tweaks and improvements.
eCut 7.3.1.24
2022-06-01
New SCRIPTS function


Scripts
Designed to generate relatively simple curves that can be described by parameters (width, height, etc.). For example, for templates of cardboard boxes and packaging.
The G-code generator can now generate curves in 2D, as well as the ability to initialize and finalize the machine with your own commands.
Also some minor tweaks and improvements.
eCut 7.2.0.23
2022-04-14
Little fixes in few functions.
Fixed nestion search timer+count
Eyelets feature can show total count of eyelets and create wind holes.
Deutsch language updated.

eCut 7.2.0.22
2022-03-28
New version of the plugin. From the new - an updated nesting, an updated eyelet builder, an updated edge roll feature.
New G-code generator function. New calculator for liquid acrylic.
CorelDRAW 2022 support.
Updates - now plugin can update itself when new version is available.

True shape nesting
The most important innovation in the 7th version of the plugin. Now it is possible to independently place objects when nesting. It is enough to select an object, place it on the sheet as you need, and the plugin will leave it in the place where you placed it when nesting. Also multiple containers, and improved search for the best result.

Eyelets
The eyelet placement function has also been updated. Now you can place eyelets along complex objects, not just rectangles. Plus various methods of arranging the eyelets themselves along the objects.

G codes
New feature. The generator allows you to create control commands for CNC machines.

Liquid acrylic
Also a new feature. It is a calculator for calculating the required amount of liquid acrylic for the manufacture of signs using this technology.

Edge roll
Updated function for generating edge roll of volumetric letters. Now all methods are collected in one window, plus some methods have been updated.
eCut 6.10.25.35
2021-04-23
Some features for automation in Nesting function.
eCut 6.10.25.33
2021-03-11
CorelDraw GS 2021 is supported!
eCut 6.10.25.32
2020-12-23
Finger-joint box creator can create sliding lid now.
Two new languages added: French and Turkish.
eCut 6.10.25.31
2020-12-14
Node extention function updated
New custom notched in cassette function
Barcode creator can create vektor shape.
eCut 6.10.25.30
2020-11-12
New function - Door panels (facades).
description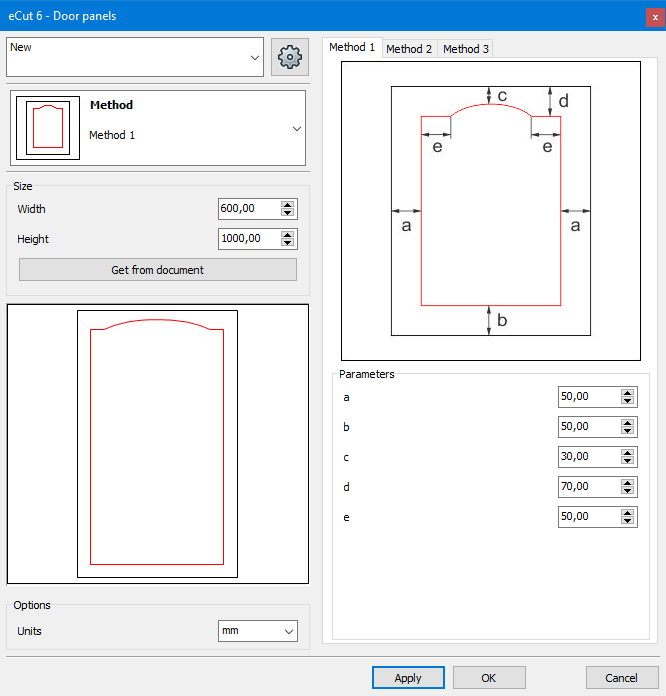 Now you can set UI language and scale in "About plugin" window. And some little fixes.
eCut 6.9.24.29
2020-09-01
Finger-joint shape: now you can generate holes in face as separate object, legend can be added to each edge shape.
Area: feet measurement.
Signbox creator: few fixes.
Eyelets: now you can set color for eyelets.
And some little fixes.
eCut 6.9.23.28
2020-05-06
New function CAD->Flange
For leather production.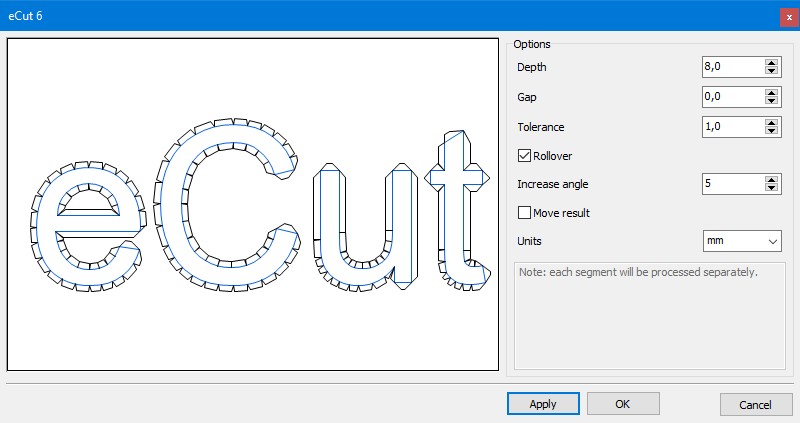 eCut 6.9.22.27
2020-04-28
A few changes in the sign-box generator - now you can see the dimensions of the common shape on the preview window. Also in two methods added the ability to generate cassettes for the joint at 45 degrees.
Added the ability to set the entry price for each path in the cost calculation function.
In cad functions - processing nodes added the ability to not close the exits from nodes. Also, the DXF generator now exports with layers.
Fixed bugs in the barcode generator.
eCut 6.9.21.26
2020-03-13
Added support CorelDRAW 2020
Variables->Barcode has Checksum option now.
eCut 6.9.21.25
2019-10-01
New route optimizer methods: nearest to path, manual mode.
Example in Youtube
eCut 6.9.19.23
2019-05-09
Finally you can set minimum distance to zero. But if tolerance will be bigger then minimum distance - you may have little intersections.
eCut 6.9.18.22
2019-02-15

New edge roll method - with notch on edge. Read more information about how to use this feature on this page:
How to create edge roll with notches.
And some fixes in nesting and variables functions
eCut 6.9.17.21
2019-01-23
New cropmarks for Versa and Simple1 for summa.
Now you can set rows and columns count in contour cutting feature
Hot-wire cutter feature now can create helpers on each side
New commands for Creation PCUT cutters that do not freeze plotter
CM in cassete feature
Nesting function can now rotate everything on 180deg.
Route optimizer can change first point of each path near to its corner.
eCut 6.9.17.20
2018-12-11
Rectangle nesting can now fix angle to prevent rotation of shapes
Nodes editor can now process inner corners with dog-bone effect for finger-joint shapes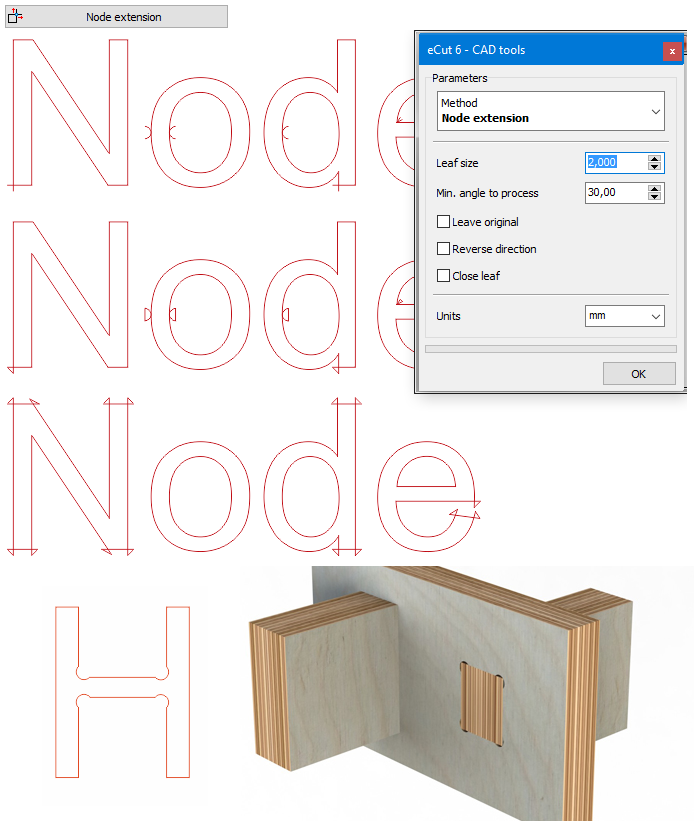 eCut 6.9.16.19
2018-06-14
Fill holes with custom shape in nesting function

Added locks to signbox creator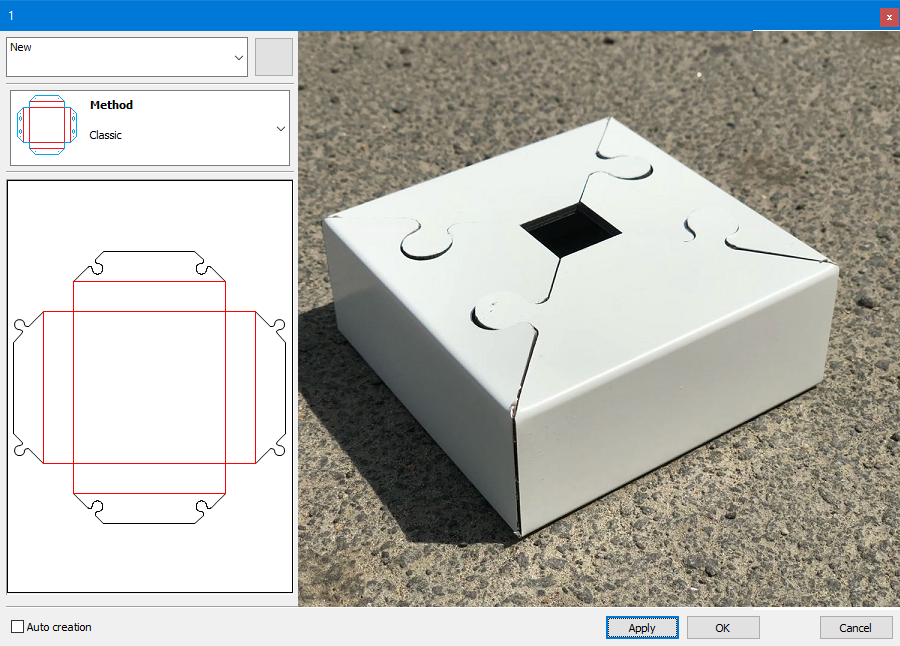 New feature inside slice function - manual mode. Use it to create stencils or cut difficult shapes.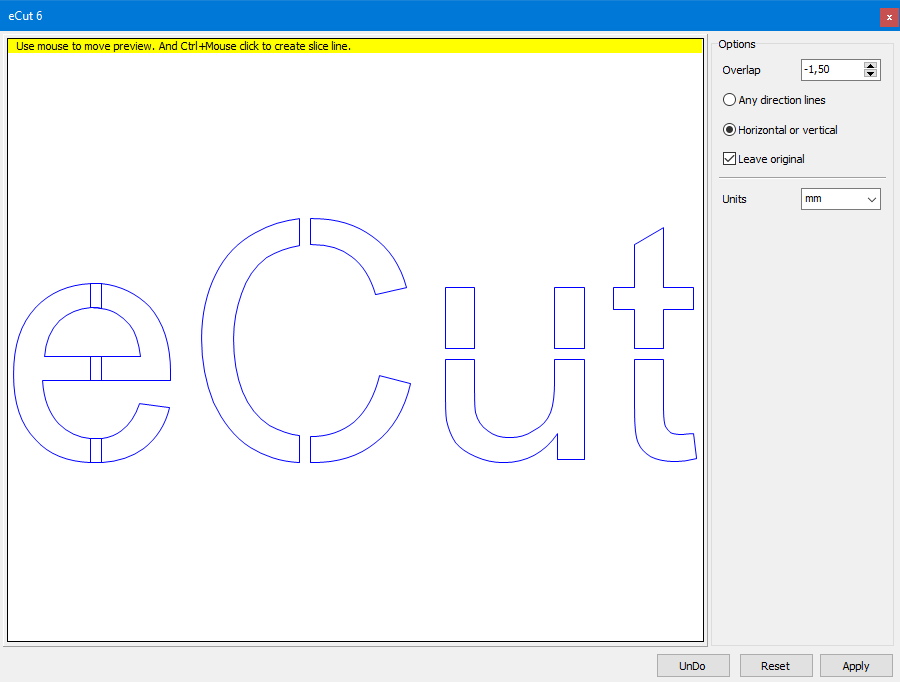 Hotwire cutter can cut shapes not node-to-node, now you can set any position on shape.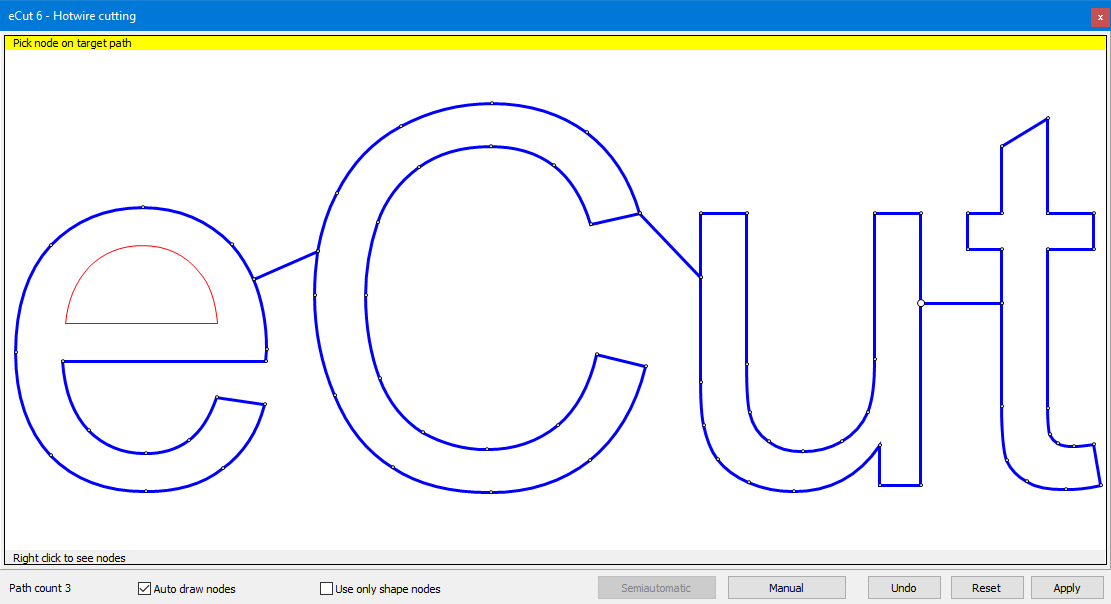 And some fixes.
eCut 6.9.15.18
2018-05-30
New function - volume calculator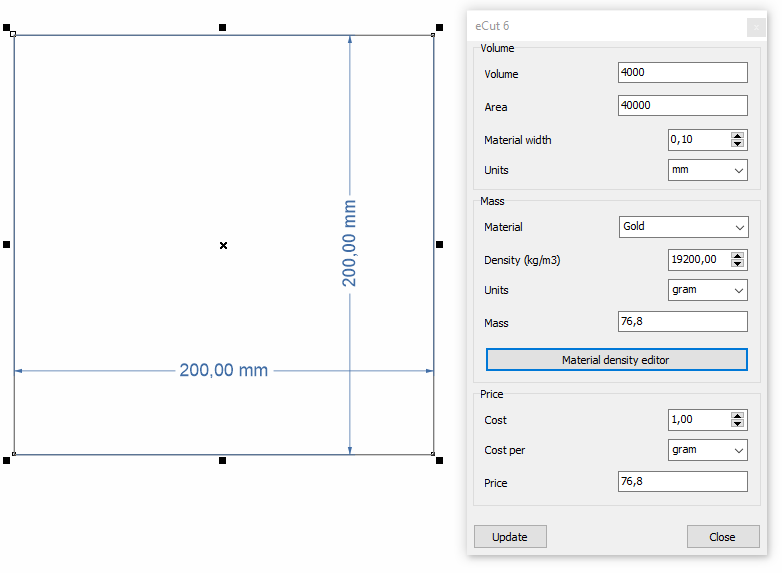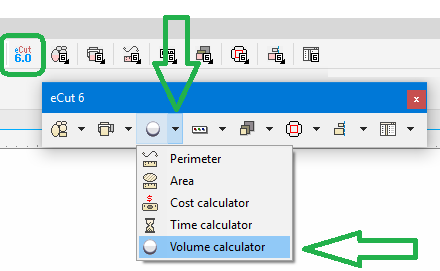 eCut 6.8.14.17
2018-05-04
Added forms scaling for high resolution monitors (4K and more...).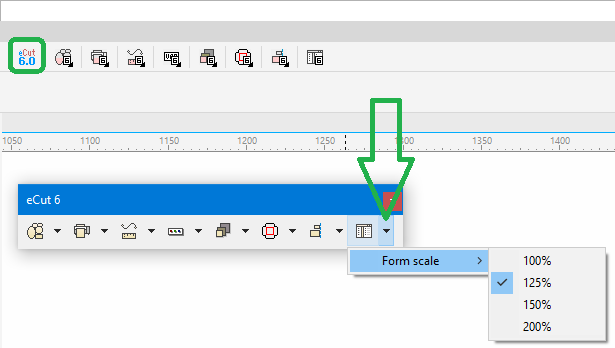 Also new feature in CAD functions - auto dimensions: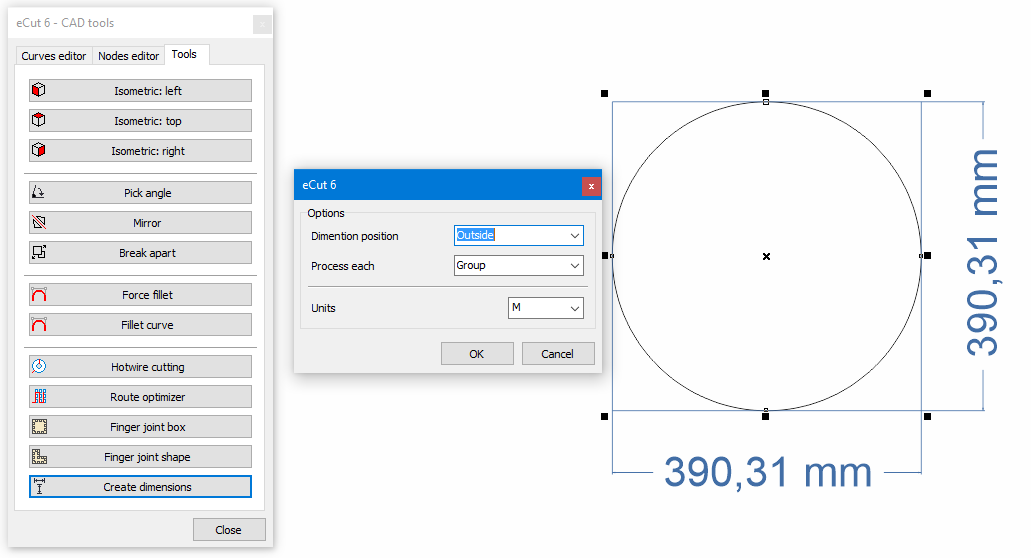 In finger-joint box there are dividers now.
eCut 6.7.13.16
2018-04-05
10.04.17
CorelDRAW 2018 support added
And some little fixes.
Some little fixed.
Cut/plot: - if your plotter can not pause while rolling down material - you can try to fix it by setting RollDownStep.
Search duplicates: now you can process each path of combined shape.
Search: you can now set size of object that you want to search (min and max width and height)
eCut 6.7.12.15
2018-02-27
New version of signbox creator with new method.
New cropmark.
And other fixes.
eCut 6.6.11.14
2017-11-05
Many little fixes and improvements (LEDs, Cost, Plot)
eCut 6.6.11.13
2016-08-11
26.04.17
Added CorelDRAW 2017 support And some fixes to same version.
10.11.16
Bridge creator can swap strokes now.
15.10.2016
And some more features: barcode generator can make thicker lines, 64bit support improved, cut function updated.
New function was added: finger-joint shape

Also some fixes and addons in other functions:
Cut/plot - fixed sorting
Eyelets - all holes will be groped
Nesting - sorting is available in container now, efficiency output, now you can set time to process your shapes
Area - DM2 and CM2 was added
Route optimizer - new shapes will save some parents parameters
eCut 6.5.10.12
2016-01-11
17.02.2016
Some more fixes and enchantments in this functions:
Cost calculator, Rectangle nesting, True shape nesting, Multiply, Create carrier.
Many little fixes and improvement that was made for last months.
Weeding lines can create separate lines to separate text lines.
LEDs show how many diodes was created in status bar.
and many other fixes that was updated earlier...
For example - contour cutting feature: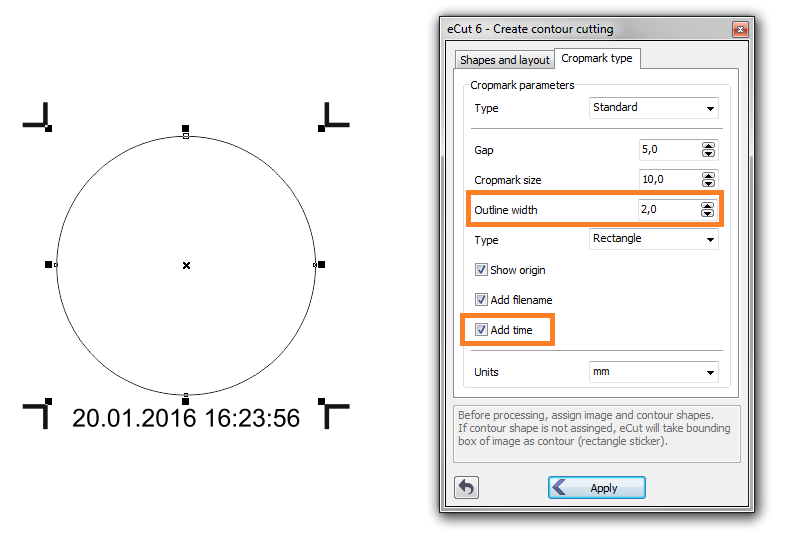 eCut 6.4.9.11
2015-07-17
06.11.2015
UI scale fixed
New function - finger joint box creator.
You can use laser or CNC milling machine to create this boxes, function can compensate CNC tool diameter.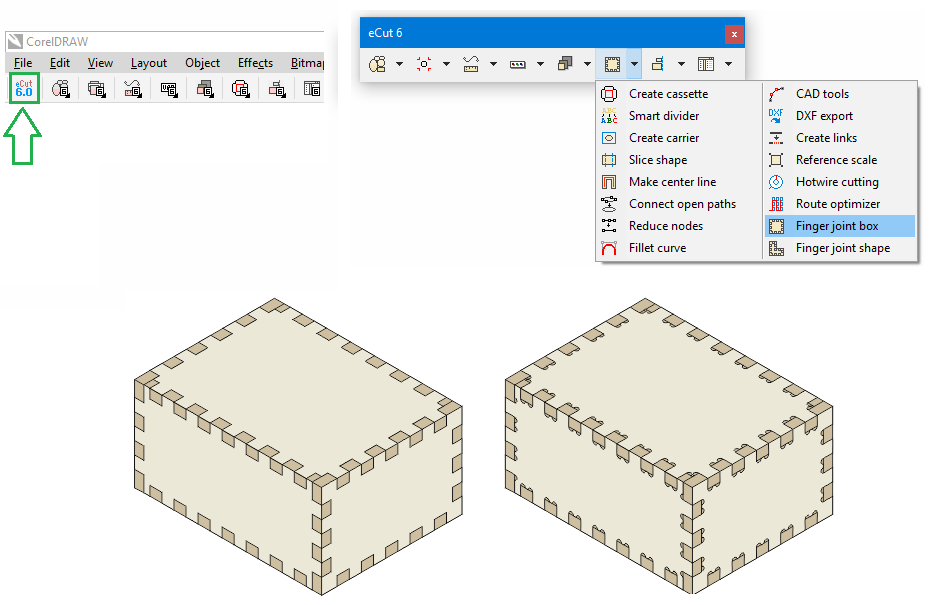 Also fixed bugs that could cause 64bit CorelDRAW error when processing very complex shapes.
Also search function was improved.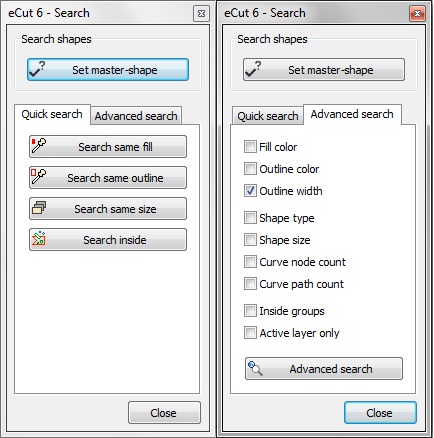 eCut 6.3.8.10
2015-07-07
Some little fixes.
Nesting can create blocks in rows after nesting if they are not fitting to area.
Weeding lines can make lines smaller.
New cropmarks - circles with variable diameter.
eCut 6.3.7.9
2015-04-13
Some little fixes.

eCut 6.3.7.8
2015-03-23
Added new feature in route optimizer - "change first node". Allows eCut to find best point to start curve and decrease tool UP time.
Multiply has "Fix angle" feature to block rotation of original shape.
In Variables new delimiter was added to import filter - ','.
eCut 6.3.6.7
2015-03-04
New feature - route optimization.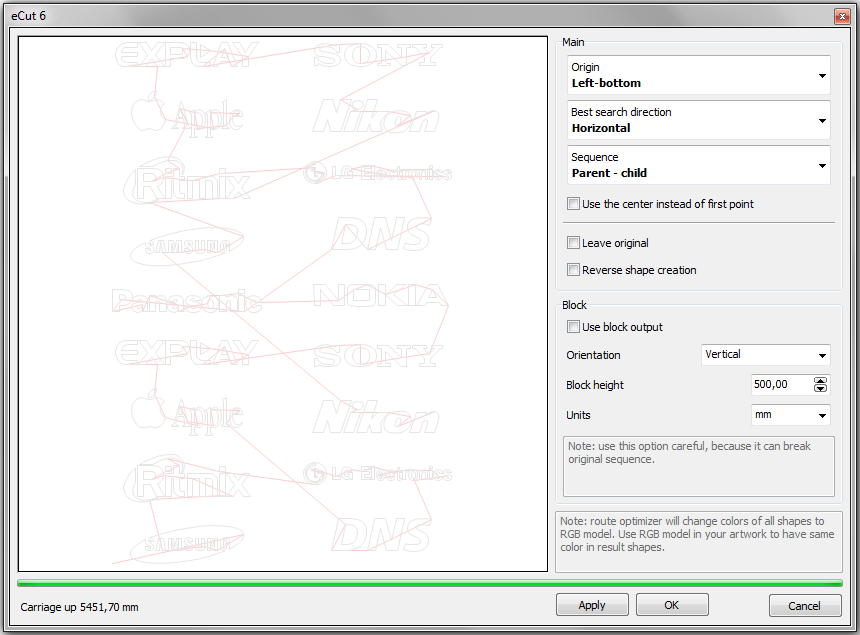 New effect - place(fit) shapes along curve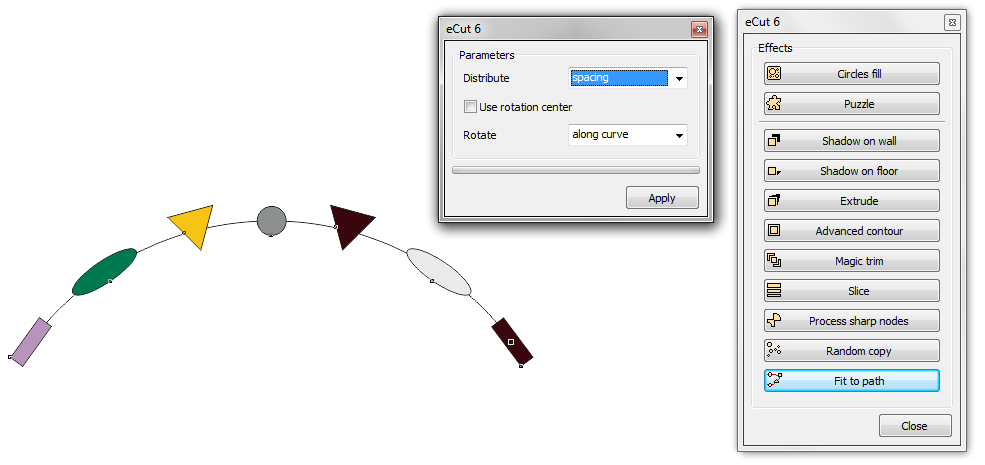 New feature in TIME function.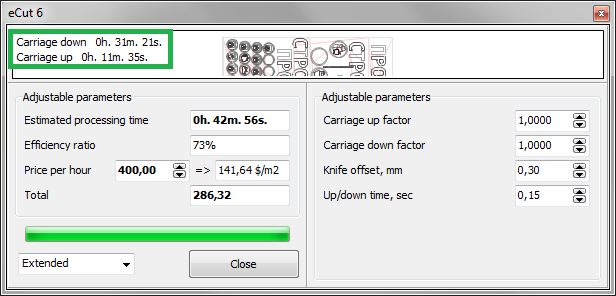 Nodes redraw updated in hotwire cutting feature.
eCut 6.2.5.6
2015-02-17
New function is used to construct a single path for cutting foam (and similar materials) on specialized machines with hot wire.
YouTube

Also, very useful will be new feature from CAD-functions : Node extension.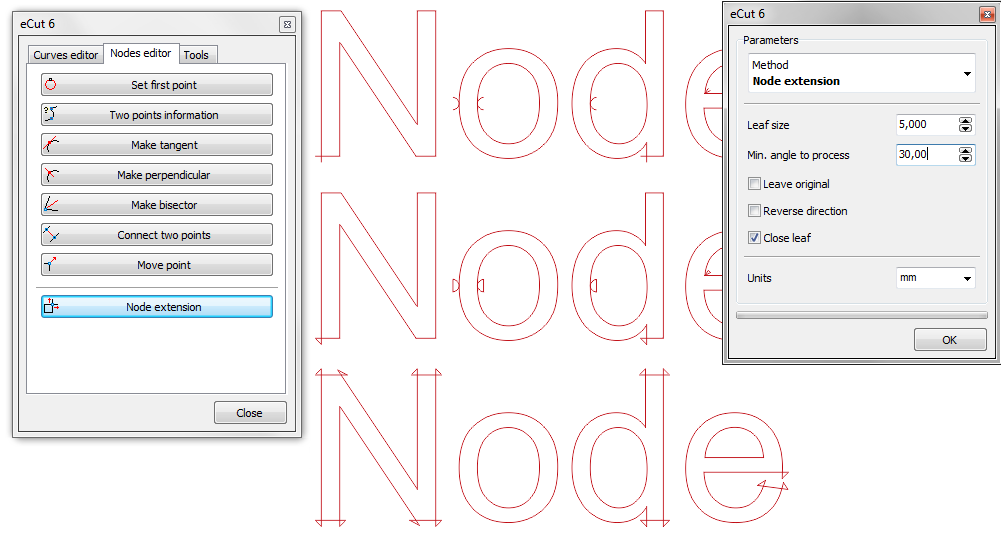 Also Remove dup. edges was updated - now it more faster and stable.
eCut 6.1.4.5
2015-02-09
Edge roll function was updated.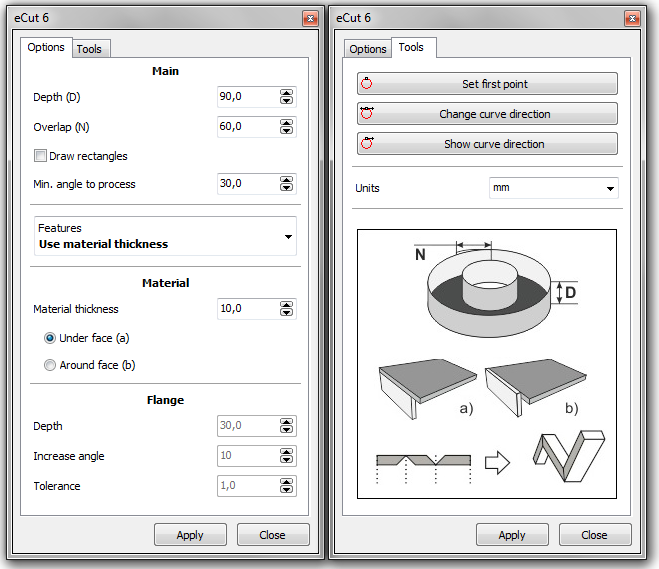 eCut 6.1.3.4
2015-02-03
LEDs function was updated. Now eCut will place more diodes on curve.
Now you can select reference point when placing diodes on curve (or fill). It can be center or edge of diode.
Also Italian UI language was added.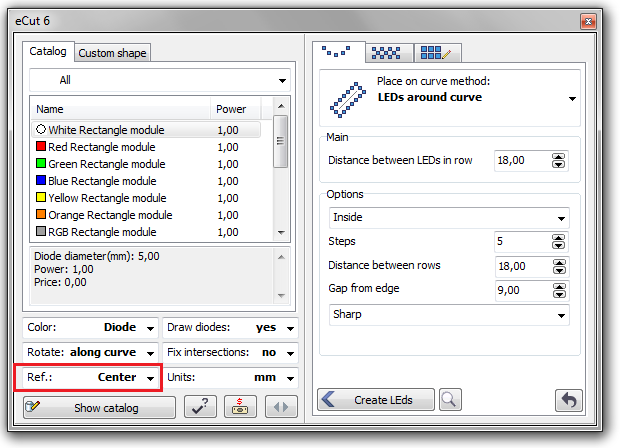 eCut 6.1.2.3
2015-01-29
Nesting function was updated.
New parameter: Edge padding.
Allows you to set empty space between nested objects and sheet boundbox.
Also "Page margins" was renamed to "Reduce sheet size"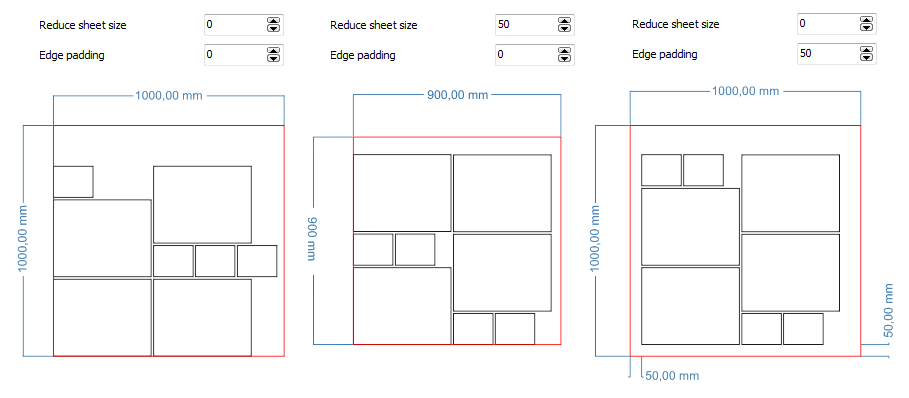 eCut 6.1.2.3
2015-01-13
Several small but useful updates:
DXF export now works better with autocad.
Now, if document scaled, you'll see message about it. Because eCut works only with real coordinates.
The most useful- nesting. Added (as before) the height of the resulting output block. And the unused area will be crossed out.
And now you can select best result from list. You can make several attempts and select best using arrows on form, nesting will save them all.
Also, later, was added button that allows you to select best nesting result according to blocks height.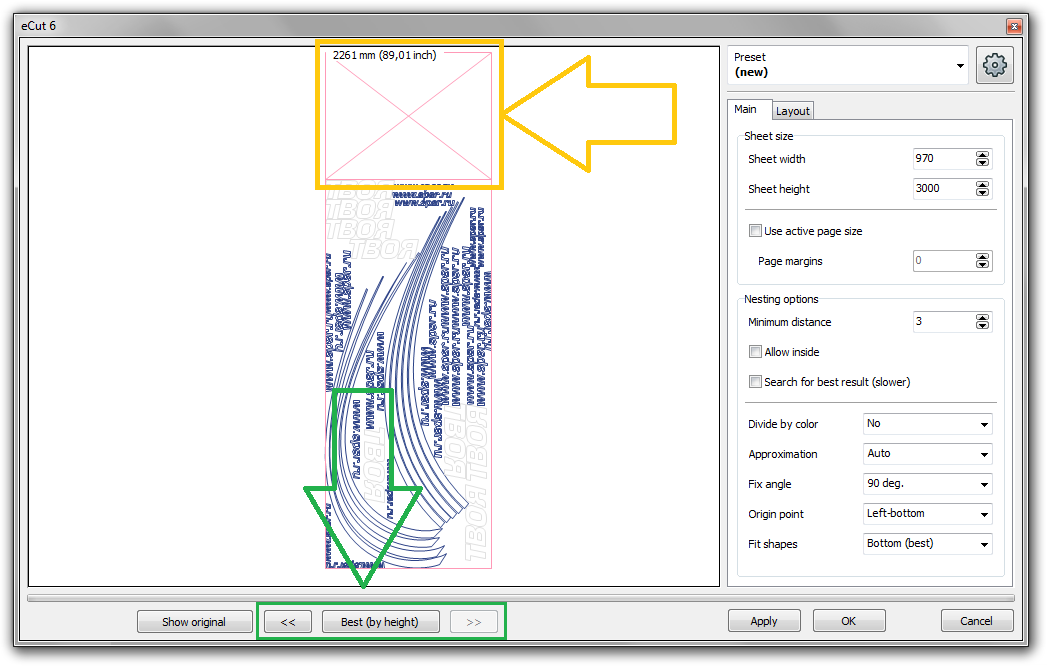 Several fixes and features innovations in pricing. Added a button that allows you to collect data in a single window with multiple files.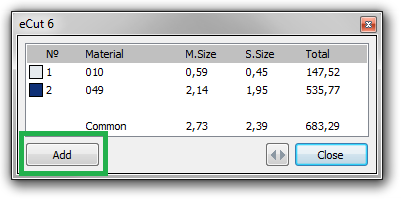 Function variables can now generate a specified number of rows, allowing you to add the line automatically if they are not enough.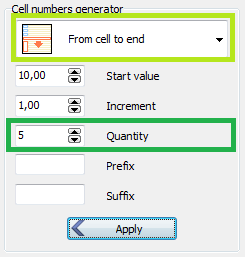 And some little fixes
eCut 6.1.1.2
2014-12-08
German language added.
eCut 6.1.1.2
2014-10-06
Fillet function returned.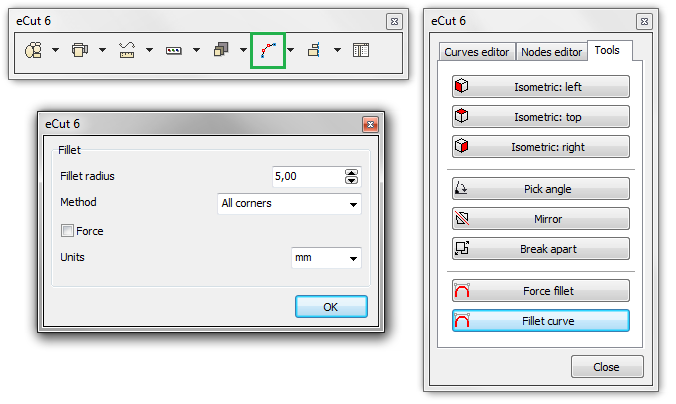 New cropmarks added - for eCOM contour cutting feature.
eCut 6.1.1.1
2014-10-02
Some little updates in Plot and Cost functions.
In cost feature you can add new lines to active form.
eCut 6
2014-09-12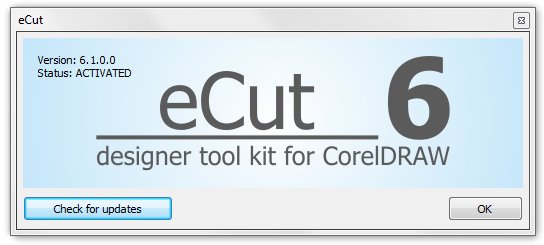 New version of plugin is released!
New user interface, new functions, new power...
eCut 5.17.1.317
2014-07-22
31.07.2014 - And some more...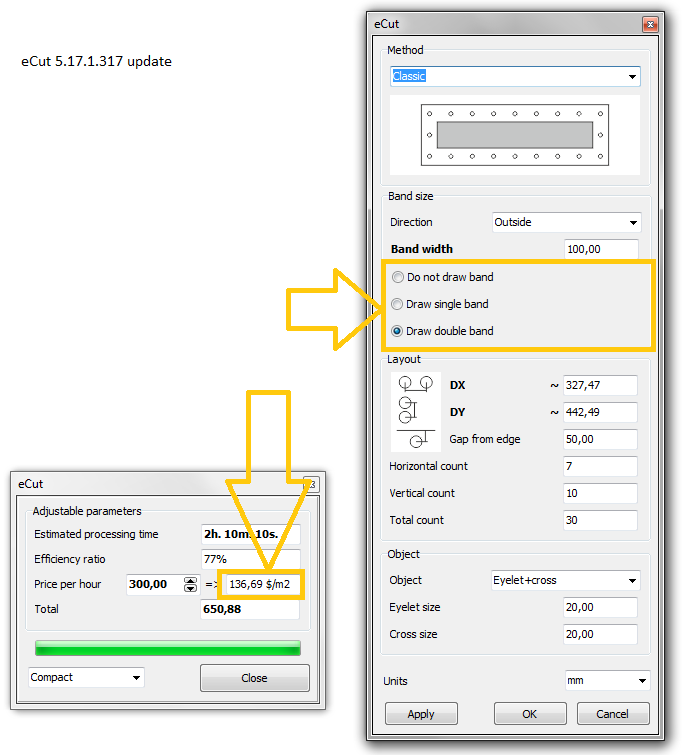 25.07.2014 - time calculator updated
This feature allows you to find out how much time you need to process selected objects on plotter/cutter (or even CNC) .
Another words - it calculates machine time
This function has two window types: compact, here you can see only result time and can calculate cost.

And extended type: here you can specify coefficients to get better result and also you can see preview.
On preview image you can see where cutter will work slower or faster: dark shapes slower, lighter - faster.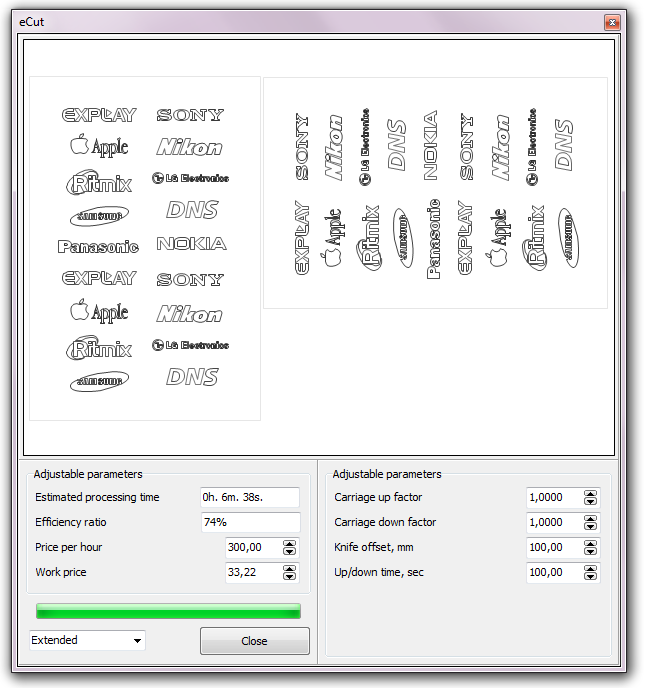 Time calculator can show good result for Roland cutters (SPEED = 40sm/s NORMAL), but using coefficients you can get good result for most cutters.
22.07.2014 - Weeding lines feature updated.
now it is faster and has new method.
eCut 5.16.1.316
2014-05-29
This update for those, who does not see this button: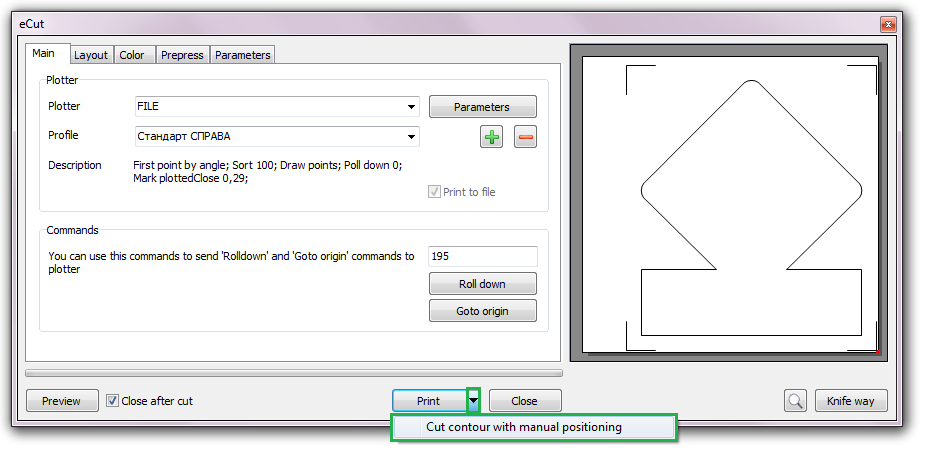 Now you can click right mouse button on "Print" and get this PopUp menu
Curve linker can close opened paths automatically.
eCut 5.16.1.315
2014-03-31
01.04.2014 - CorelDRAW X7 supported!
Curve linker feature updated. In past in CorelDRAW X6 there was bugs - now everything is OK.
And main news!

CONTOUR CUTTING FEATURE ADDED!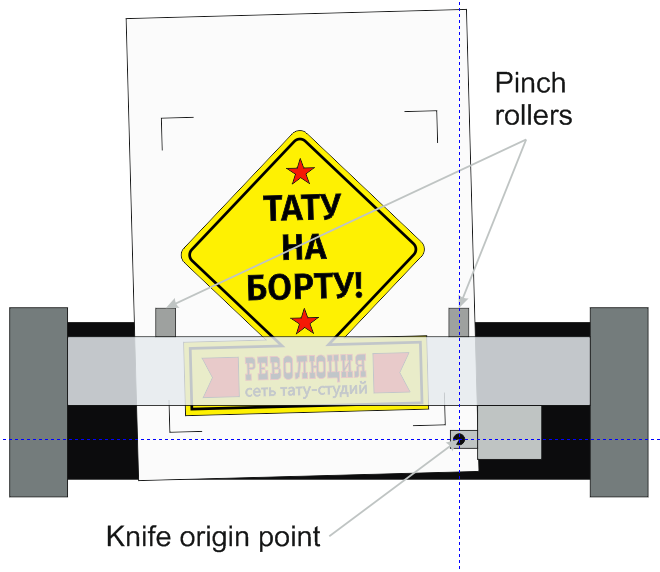 It is compatible with any plotter (99%) with or without laser pointer.
Here is tutor about how it works:
link
.
Later (may be) I'll make video tutor about it.
eCut 5.15.1.314
2014-02-25
Now eCut can ask for a test period by himself - without need to go on my site.
eCut 5.15.0.313
2014-02-17
New option in SIGNBOX CREATER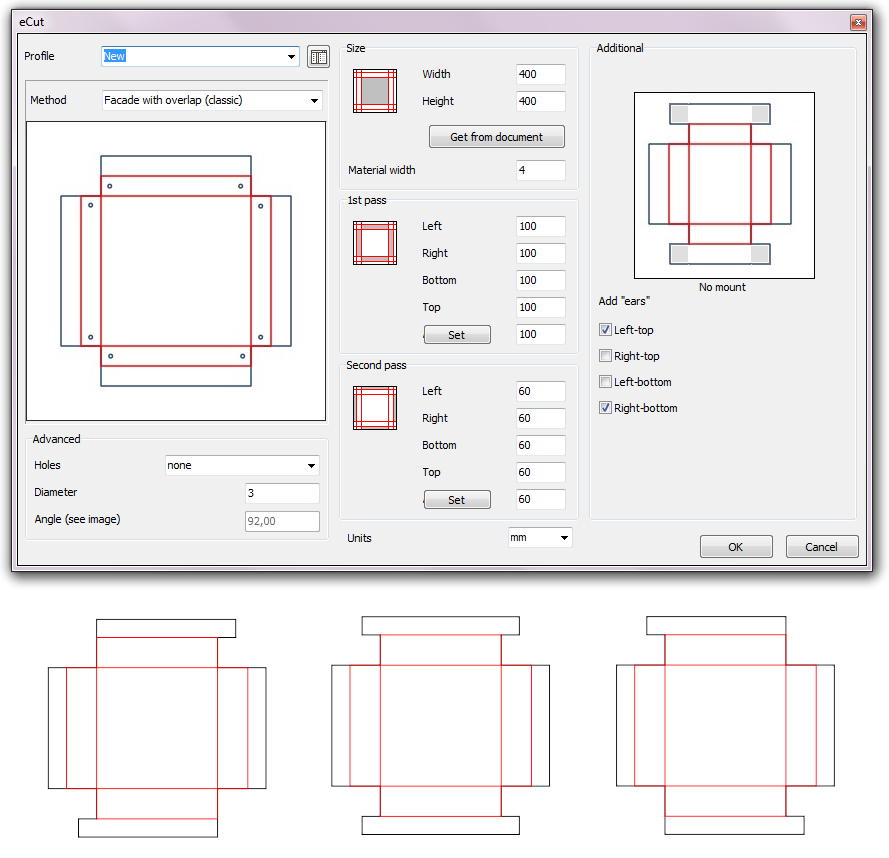 Also new feature for laser owners - show "holes".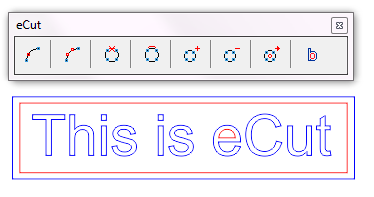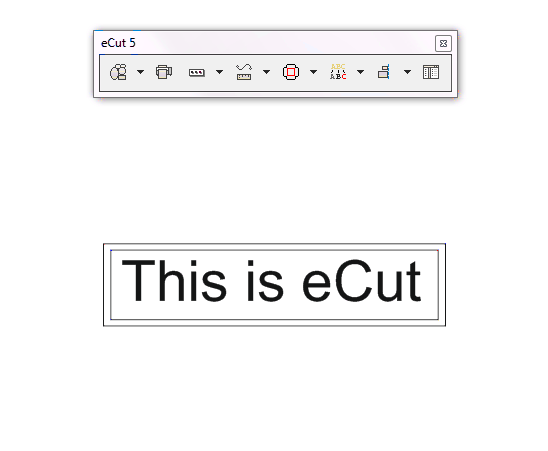 eCut 5.14.0.312
2014-02-14
Carrier function updated - now you can fix intersections.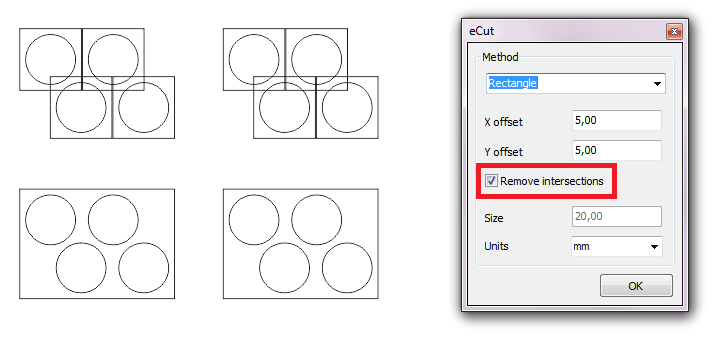 Also cropmarks creator can add filename into cropmarks area.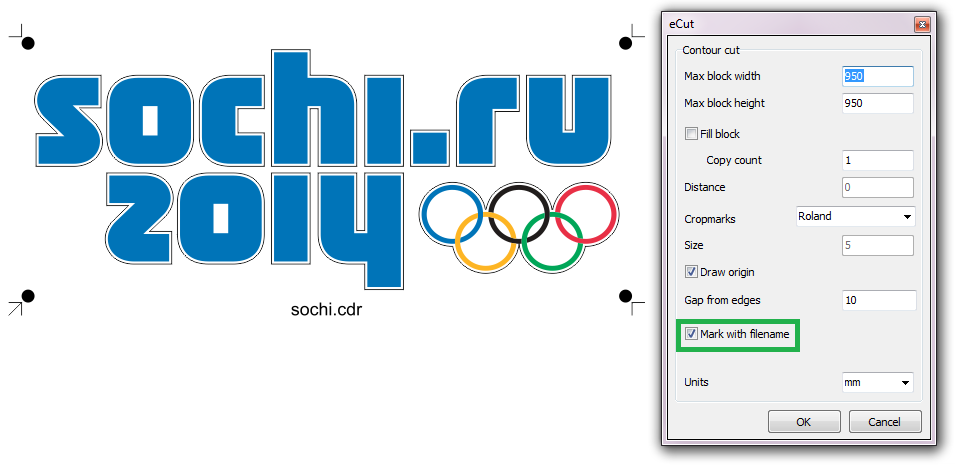 eCut 5.14.0.311
2014-02-06
Now Cut/Plot function allows you to select sheet size from COrelDRAW list. Also "Create boundbox" feature can set angle size. And "Slice" function can delete edges after cutting.
And new effect - puzzle creator!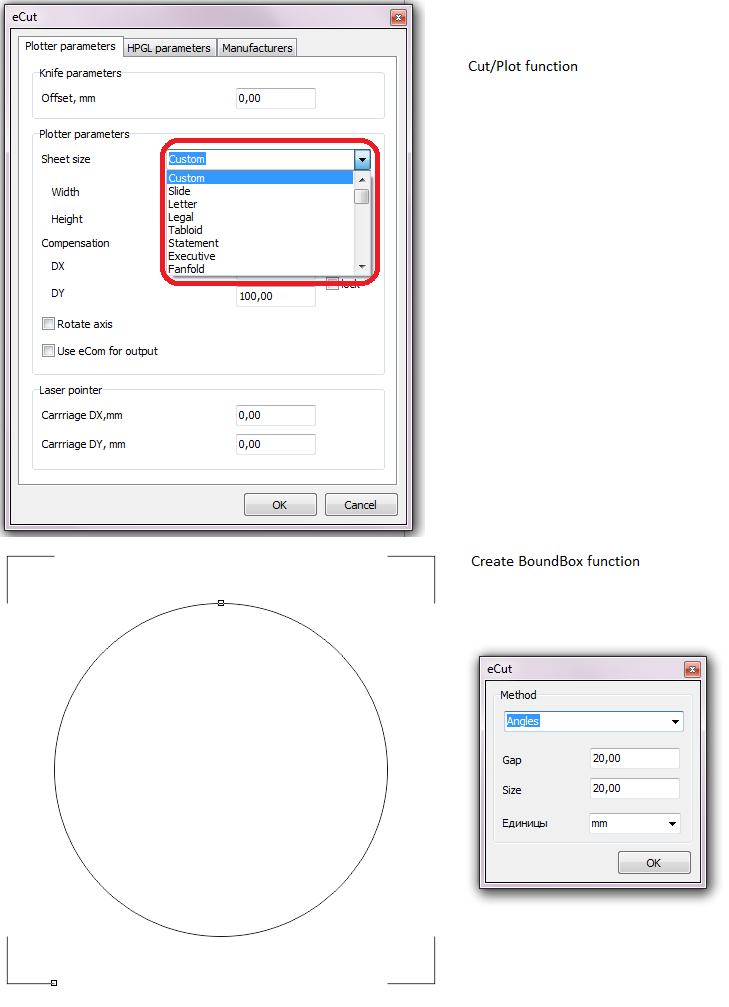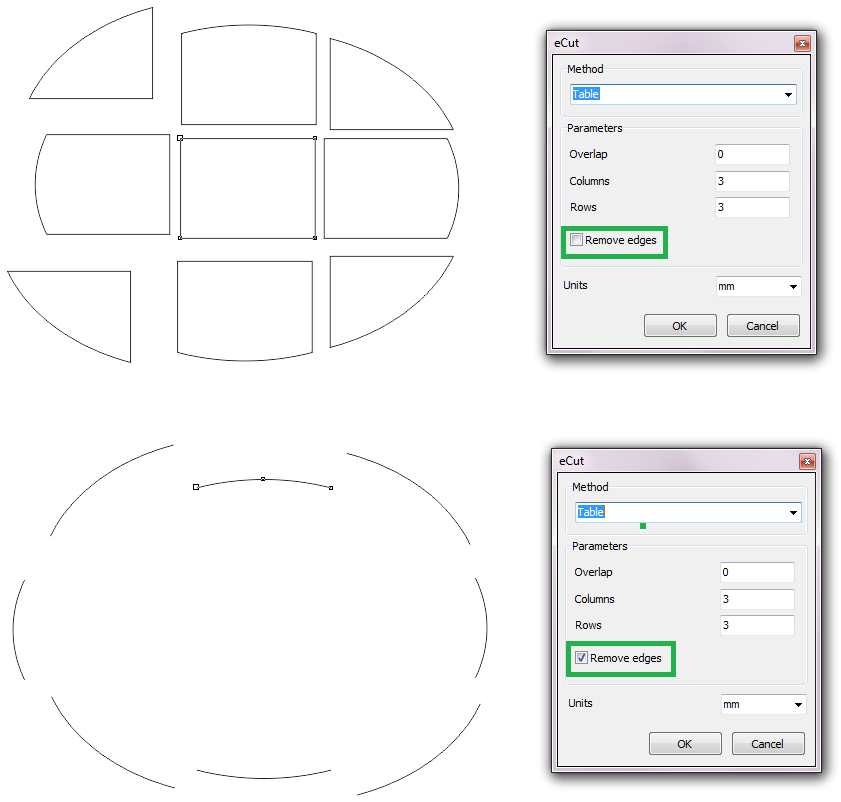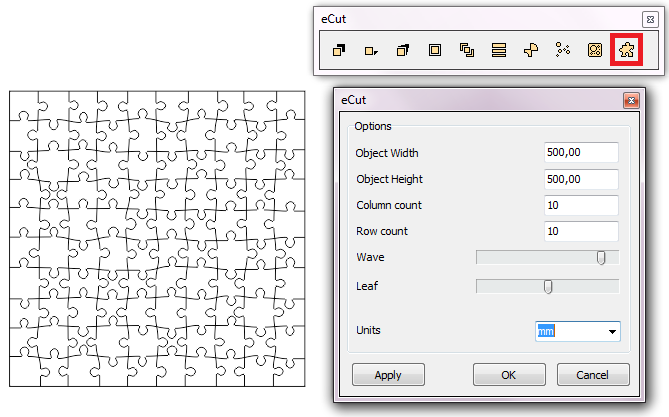 eCut 5.14.0.310
2014-02-06
New effect - Fill with circles. See how it works here:
eCut 5.13.0.309
2014-01-24
Finally finished description of two new functions :
Reference scale Create bridges
Edge roll feature updated! Now you can specify material width.
Now testing time, and you can launch old and new function - as you wish.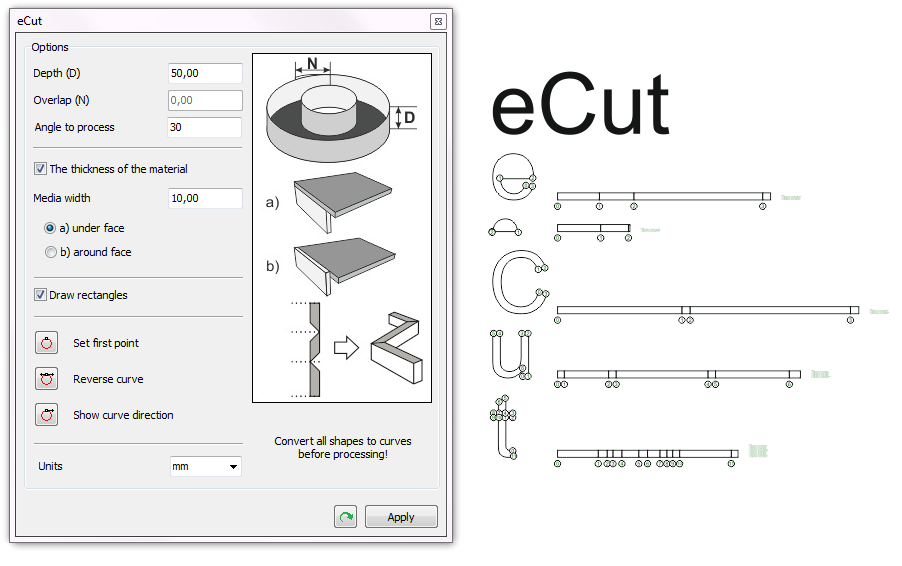 eCut 5.12.0.308
2014-01-23
Print/Cut and CropMarks function updated. SummaCut marks added (Mimaki and Summa marks are very similar).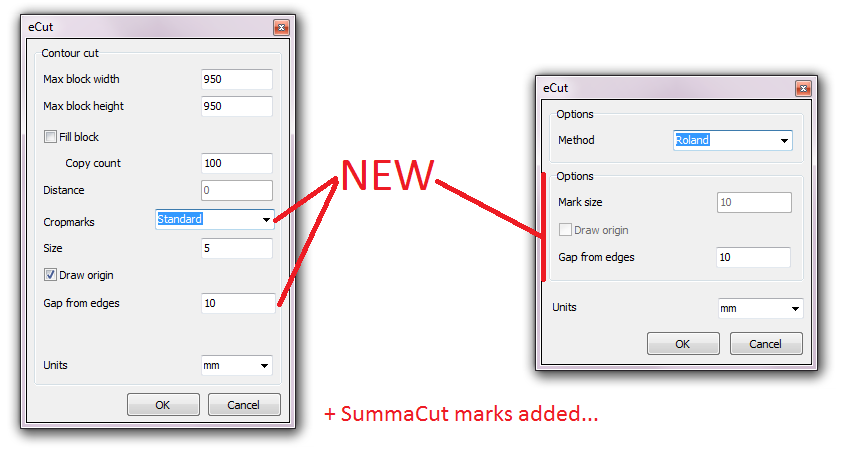 eCut 5.12.0.307
2013-12-09
Create BoudBox feature can create little angles instead rectangles. Some advantages was made in nesting and create signbox functions.|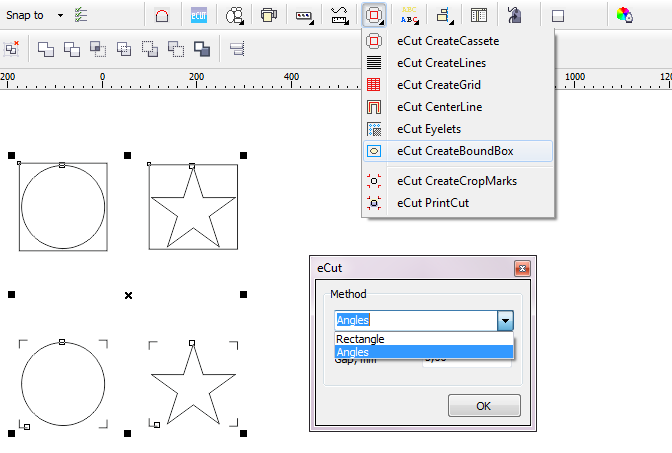 eCut 5.11.0.306
2013-10-15
Some little advantages. And new Area function interface.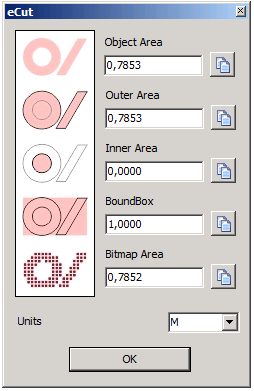 eCut 5.10.0.305
2013-08-13
Corel DESIGNER X6 is supported now - for more details contact me...
eCut 5.10.0.303
2013-03-05
Some little changes in nesting function - now BIG objects will be placed fine at the edge of document.
Find Intersection feature now can process segments inside one subpath. But neighboring segments are not processed, because they always intersects in common point.
eCut 5.10.0.302
2013-02-12
Whats new:
Main features was added to Sign box creator:
1. Wall mounts added.
2. Two new methods for building facade.
3. Also you can launch previous version of this function (eCutR5 124 ).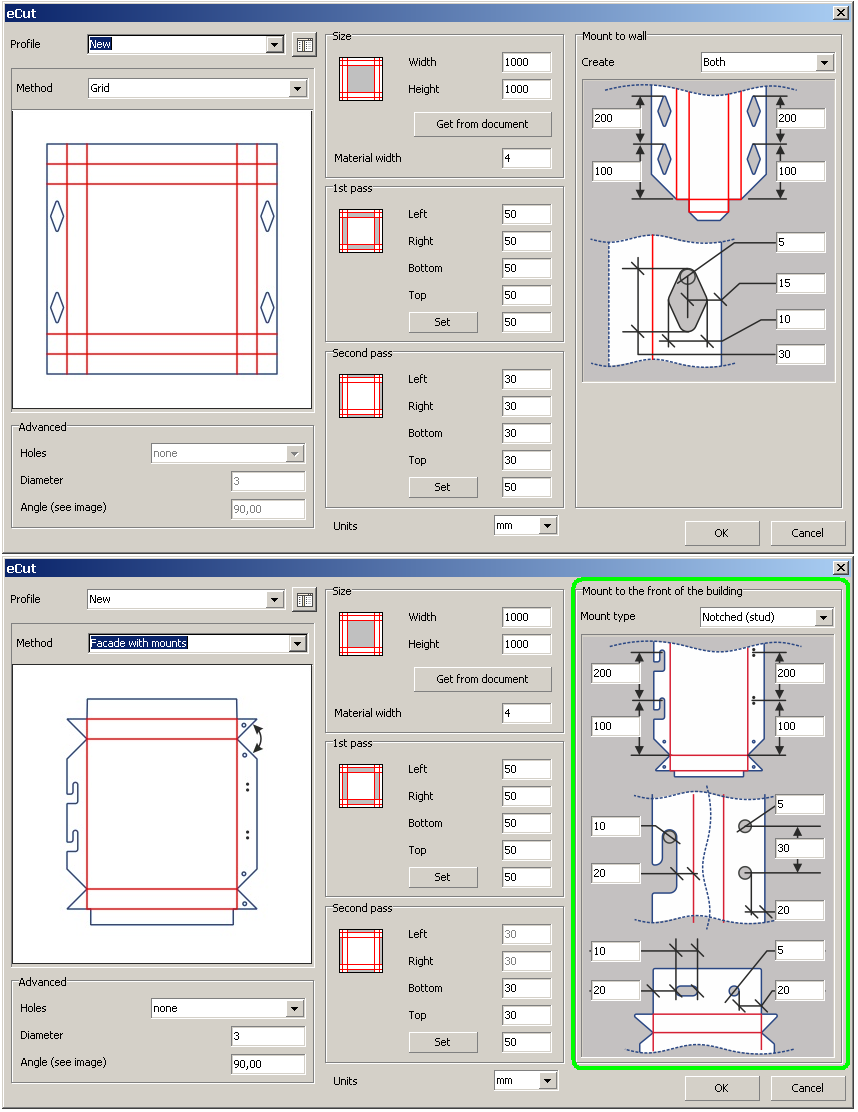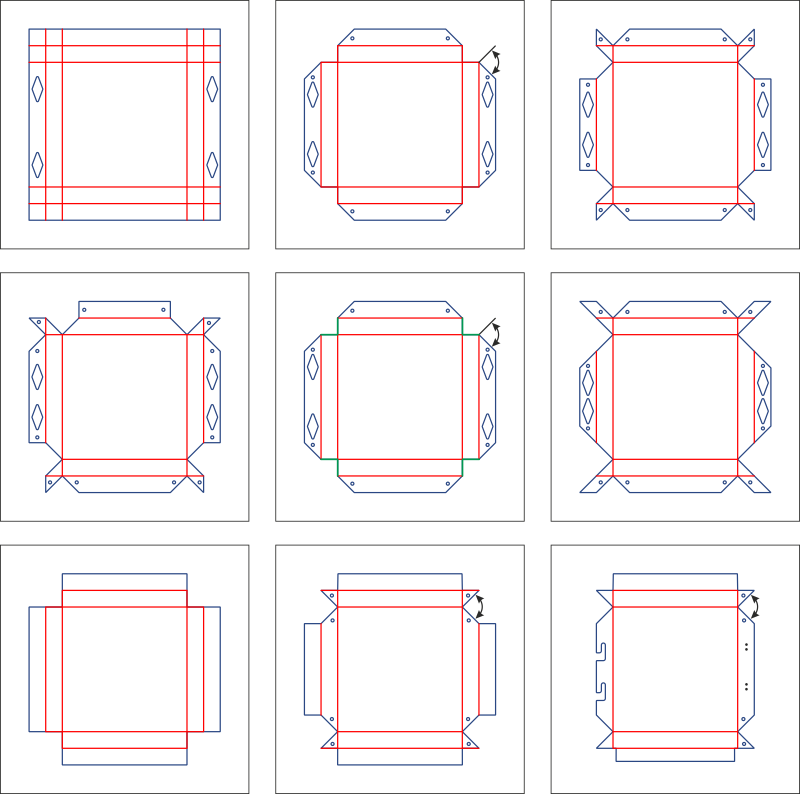 Also cost function now can calculate sheet as area.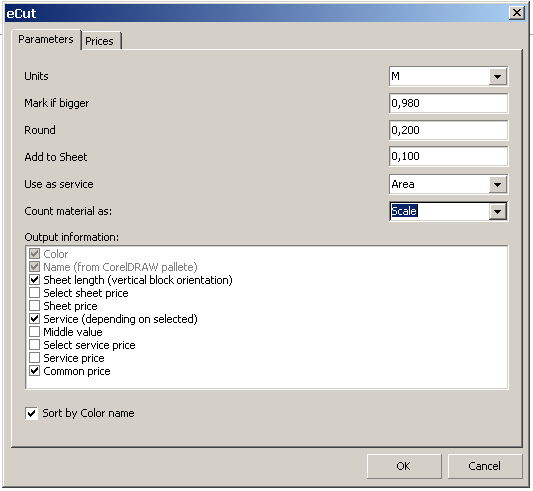 And some little improvements!
eCut 5.9.0.300
2012-12-03
Great news!!! eCut for CorelDRAW X6 64bit is available now!!!
Also some little fixes was made in Plot, Nesting and Cassette-creator functions.
And also I've made new eCut panel for CorelDRAW - all functions are available in it.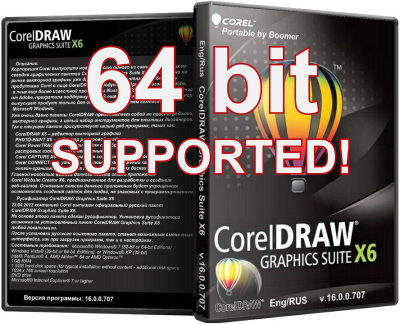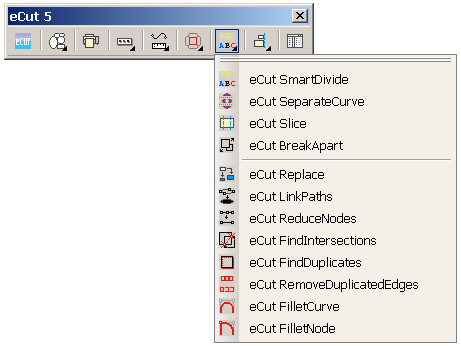 eCut 5.8.3.297
2012-10-22
New feature for cassette maker - automatic holes on 2nd pass edge for riveter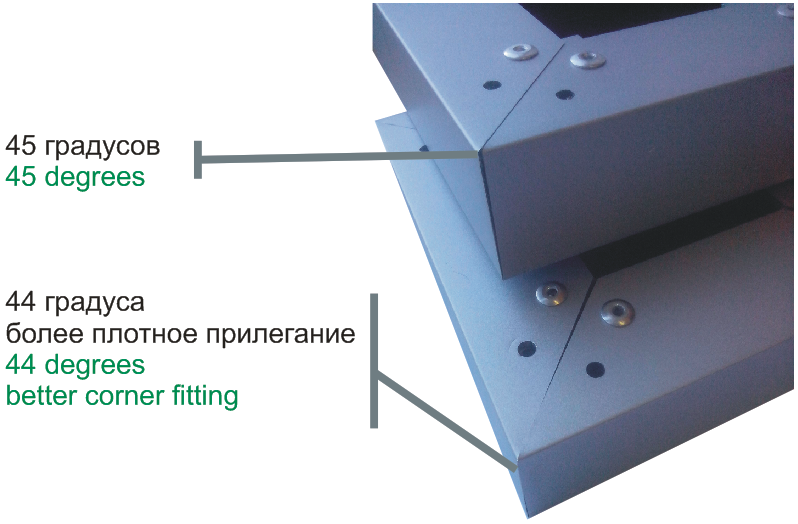 eCut 5.8.3.295
2012-10-11
Another new method for composite box creator.
Now it can make composite box for 3 tools: 90 degree V-tool, flat bottom V-tool and profile cutter.
Example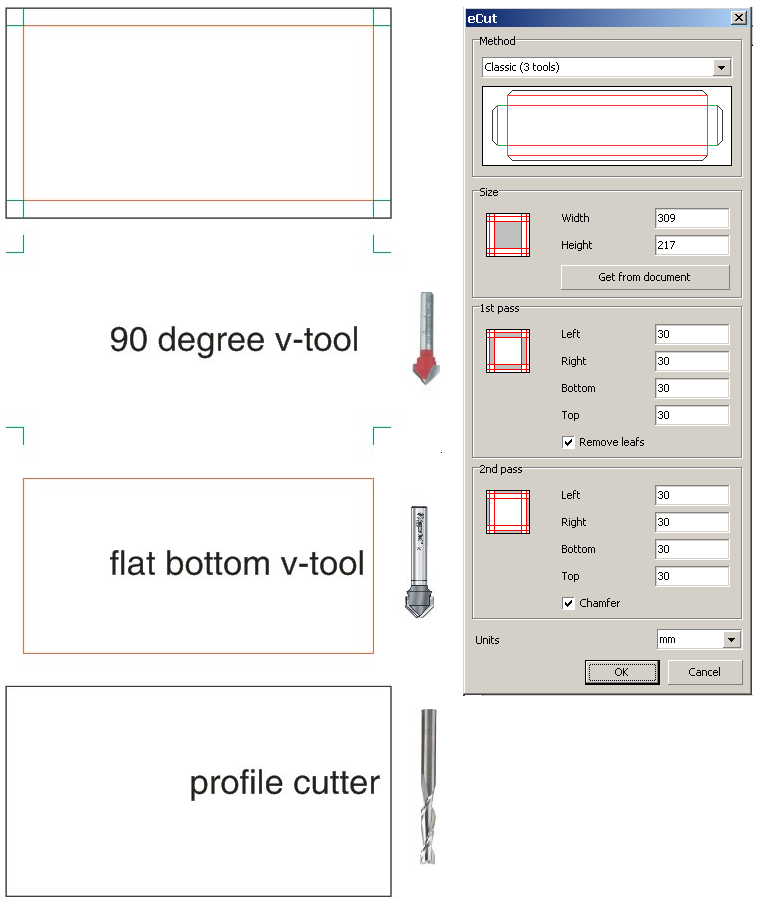 eCut 5.8.2.292
2012-09-10
New cassette method added.
Example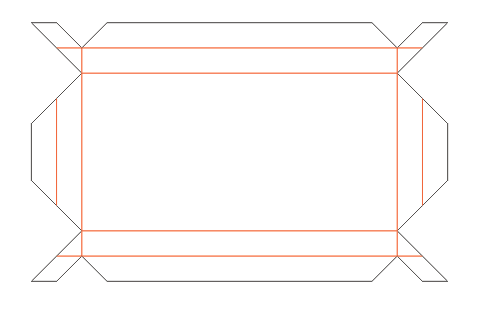 eCut 5.8.2.290
2012-07-30
Great and very powerful function for exporting shapes to DXF format - it creates very smooth arcs and polylines
Example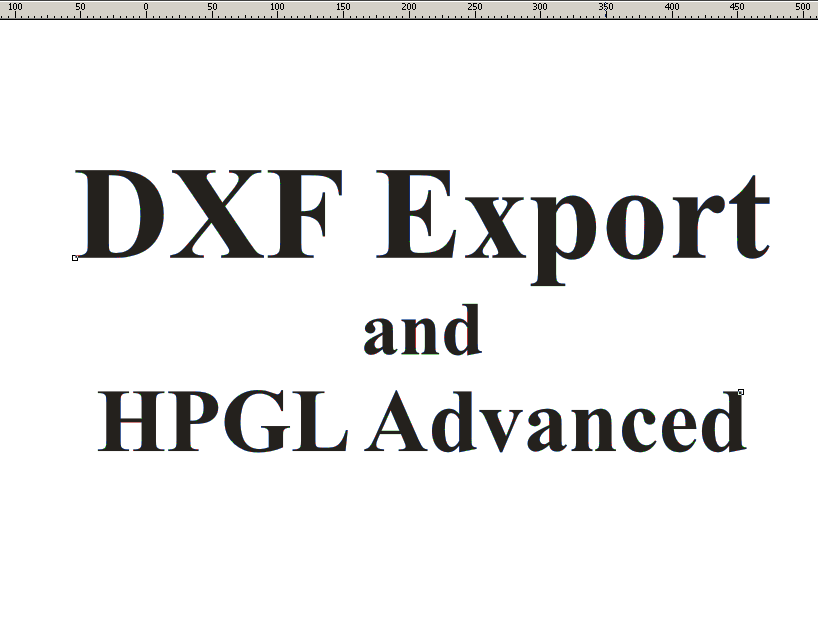 eCut 5.7.1.281
2012-05-15
New function - "Replace"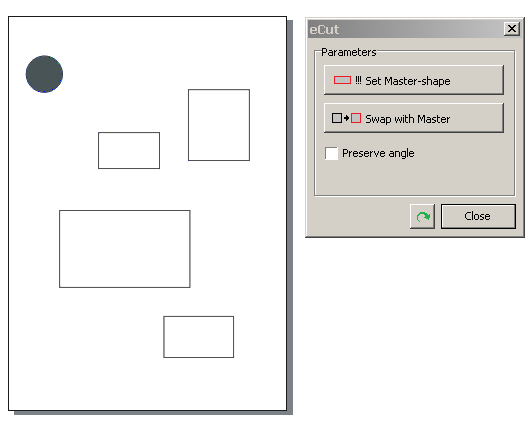 eCut 5.7.1.275
2012-05-05
Four new functions added!
Nodes editor
Curves editor
Mirror
Isometric
For more info see main page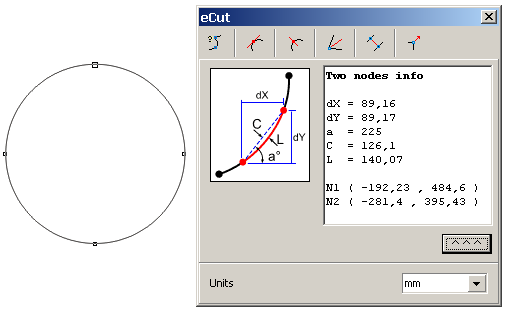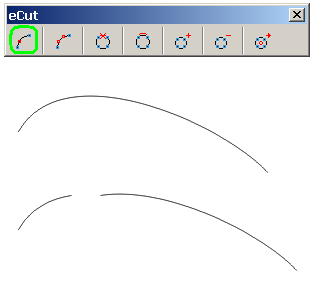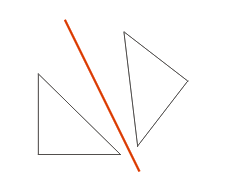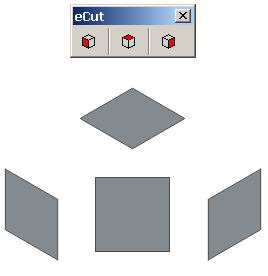 eCut 5.6.1.273
2012-05-03
Three new functions added!
Align
Search by size
Set size
For more info see main page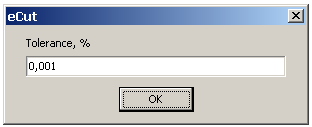 eCut 5.6.1.272
2012-04-23
Little bugs
eCut 5.6.1.270
2012-04-23
Fixed little bugs
Prev updates
0000-00-00
eCut update 5.5.1.264
Tuesday, 13 March 2012 00:00
New function!
New SLICE function allows user to slice objects, two methods are available:
1. simple grid
2. slice using gidelines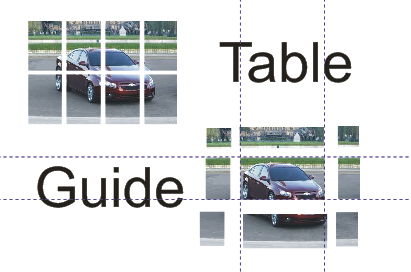 eCut update 5.5.1.249
Friday, 21 October 2011 00:00
Little Plot function update.
New button allows you to see big preview!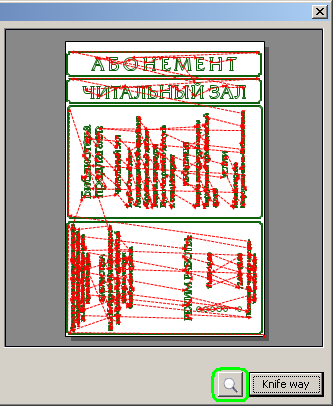 eCut update 5.5.1.247
Friday, 14 October 2011 00:00
New little and useful function!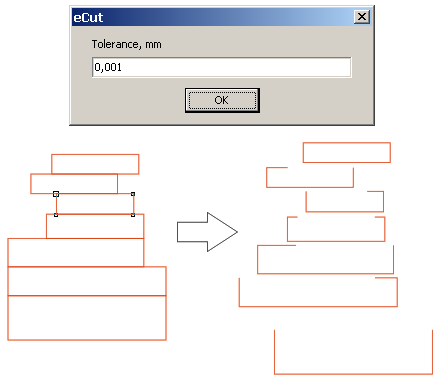 This function delete duplicated edges - very useful for CNC machines
Also eCOM updated - DELAY was added for chines cutters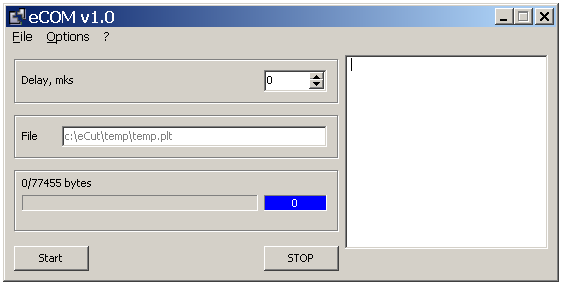 eCut update 5.4.1.243
Thursday, 06 October 2011 00:00
New little and useful function!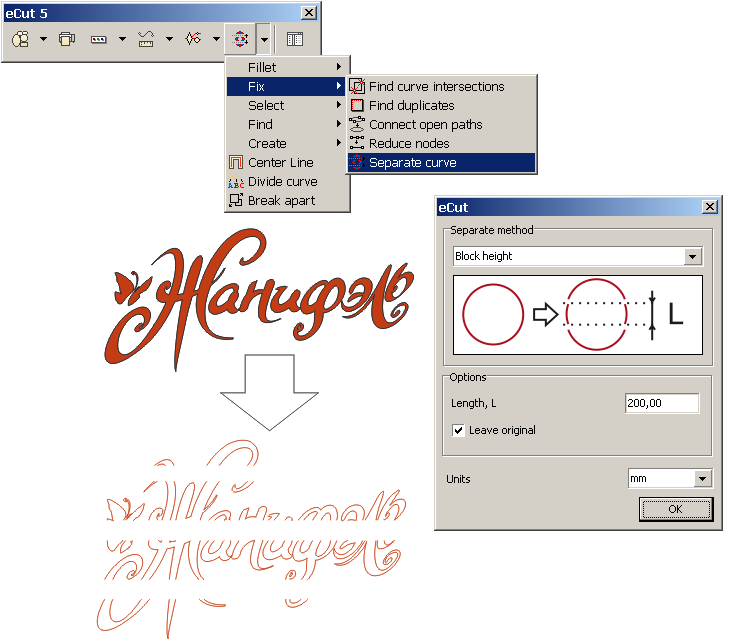 This function allow user to separate curves for cutting.
Also weeding lines function updated!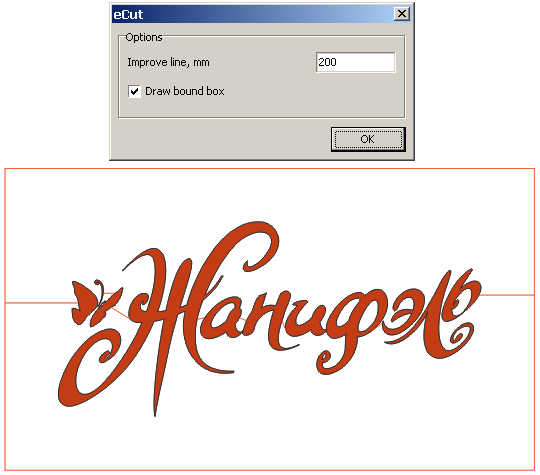 eCut update 5.4.1.231
Tuesday, 20 September 2011 00:00
NEW FUNCTION!!!!
Added new function.
This PrintCut function allows user to create files for printing and cutting on Roland GX cutters.
If you want to add You marks to this function - contact developer, I'll help ...
eCut update 5.4.1.227
Thursday, 18 August 2011 00:00
New update!
Whats new:
1. Site link in "About" window
2. Updated search outline function - select one object, launch function and this object will be original
3. In plot function if objects are outside page - they'll be marked with thick outline
4. Fixed plot function "optimized" output
5. Some small bugs...
eCut update 5.4.1.226
Monday, 20 June 2011 00:00
Added new ability to plot function
Now you can make plot function to collect statistics!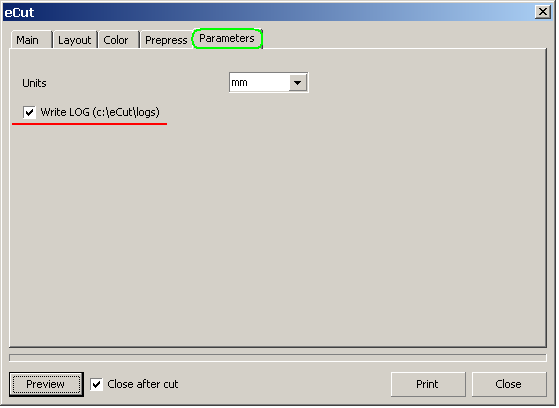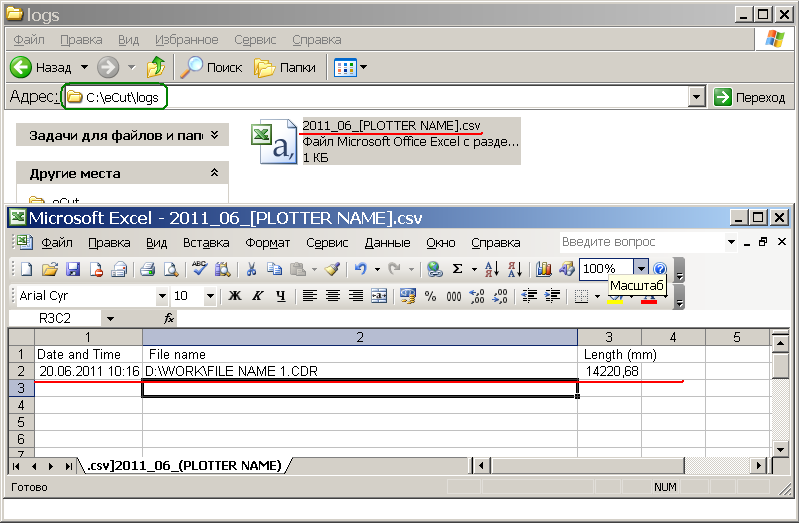 eCut update 5.1.3.192
Thursday, 14 April 2011 00:00
New function!
Allows you to create edge roll
Useful when making big letters.
eCut update 5.1.3.186
Thursday, 07 April 2011 00:00
Added new method to create cassete.
In new method hole will be created on the edge.
eCut update 5.1.3.185
Wednesday, 06 April 2011 00:00
Plot function can show UP way of knife!
To do it press button 'Knife Way' under preview and you'll see how it will be....
eCut update 5.1.3.124
Thursday, 03 February 2011 06:09
New 8 functions added as effect function:
Shadow, extrude and etc...
eCut 5
Friday, 21 January 2011 00:00
New version!!!
What new?
First of all - lots of new useful functions, You can read about them on site, or install eCut
New user interface - better then last, many useful things
Contour cutting feature - only for Roland GX (for now)
Autom
eCut update 3.1.0.40
Tuesday, 06 July 2010 00:00
New feature in nesting function!

You can now specify the object, which will be the container for other shapes!

To do this - select all shapes you want to nest and after that select container (container-shape must be selected last) and all shapes that you selected will be placed inside the shape-container!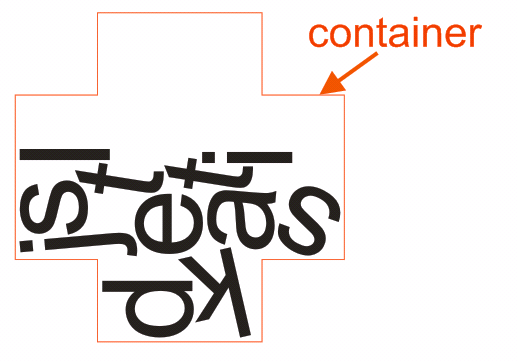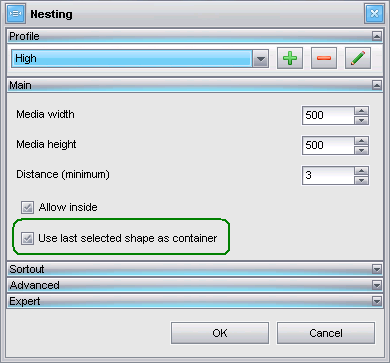 eCut update 3.1.0.38
Tuesday, 04 May 2010 00:00
1. New fillet option is available now:
- Inside only (eCut)
- Outside only (eCut)
With this features eCut will analyze hole shape (Enrote method process only single subpaths) and apply opposite method to interior subpath from chosen outside process.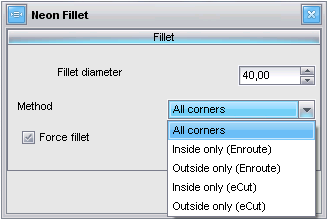 eCut update 3.1.0.36
Friday, 23 April 2010 00:00
1. Fillet function can be called through macroses!
To do it You have to add this lines to Your macros:
Public Declare Function eCutR3 Lib "c:\eCut\eCut14r2.dll" (ByVal f As Integer) As Integer

Public Sub FilletFunction()

eCutR3 121

End Sub
This is for CorelDRAW X4 version!
If You have another version of CorelDRAW - You have to change 'eCut14r2.dll'. For example for CorelDRAW X3 - 'eCut13r2.dll' and etc.
eCut update 3.1.0.34
Thursday, 22 April 2010 00:00
1. Neon fillet has own dialog window.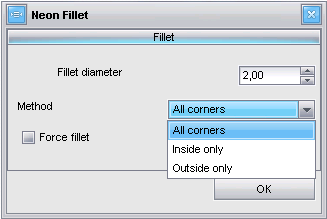 Uncheck 'force' if You have problems with fillet.
eCut update 3.1.0.32
Wednesday, 21 April 2010 00:00
1. All changes was made in NEON function.
2. New Fillet algorithm - now it easy to fillet any bazier curve.
3. All tubes it bezier now (was lines)
4. New features - auto-separate, auto-doubleback and etc.
5. Still in beta - can be errors.
eCut update 3.0.0.14
Thursday, 08 April 2010 03:18
1. Added 360 angle lock in nesting function.
eCut update 3.0.0.13
Wednesday, 07 April 2010 08:31
1. Added ability to launch help file when pressing 'F1' button.
eCut update 3.0.0.5
Wednesday, 07 April 2010 05:33
1. Nesting module do not changes color model of fill and outline.
New update
0000-00-00
eCut update 3.0.0.4
Tuesday, 06 April 2010 03:22
1. Corel X4, X5 Neon bug - no doubleback creating.
2. Added 2nd algorithm of central line for X4,X5.
eCut update 3.0.0.2
Monday, 05 April 2010 00:00
1. Fixed BIG bug in Cut/Plot function for Corel X4 and X5 (Corel freezed)
2. Fixed bug in nesting with color converting. Now if You do not use 'divide by color' then eCut do not convert colors to RGB model.
eCut update 3.0.0.0
Monday, 15 March 2010 05:32
New version of eCut is available now!
What new:
1. New UI in all functions.
2. Very stable nesting and more faster.
3. Cut/Plot function can output by color.
4. Cost function can sort blocks by color name.
5. Neon and LED function can create central line of objects, and since X4 there is two algorithms for Central line (eCut and CorelDRAW)
6. Escape any window with 'ESC' button.