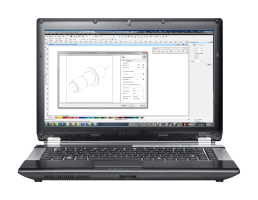 Download new eCut for CorelDRAW
eCut for CorelDRAW support all full versions of CorelDRAW since X3. eCut for CorelDRAW was updated and become more powerful, faster and more convenient to use. And test period will help you to try all features before to purchase.

For more information about compatibility, go here.
What is eCut for CorelDRAW?
This remarkable plugin for CorelDRAW allows many advanced utilities for computer designers who work with Vinyl, CNC machines, or laser cutters.
eCut for CorelDRAW has more than 40 different functions which include invaluable aids with the design of outdoor signs, light boxes, neon and LED signs.
New coding with this new version has made the user interface more user friendly.
Performance of some of the most used functions has been enhanced.
eCut for CorelDRAW - Is a separate DLL, and you can launch only using macros. That is why VBA is necessary to use plugin.
Main areas of application.
Below I will describe the main uses of the program, and what features you should pay attention to each case. eCut for CorelDRAW is powerful tool, and of course, you must be able to use it, because sometimes people do not realize how useful functions can be! Their indirect use can also open up new possibilities of the program!
eCut for CorelDRAW application.
Listed below are some of the powerful uses of the program, and what features that you can avail of in this very powerful program. eCut is a very powerful tool with many inbuilt features. Only by exploring the features and options will you get an appreciation of the functions available and how they can assist you in your productivity. You might be surprised with your experimenting how valuable some of these functions are and possibly open up new avenues with your business.